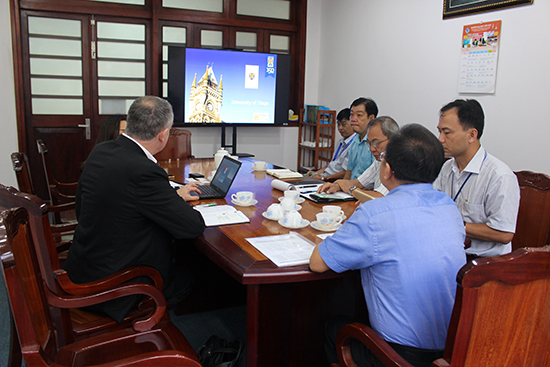 On August 21st, 2019, Can Tho University (CTU) was honored to welcome Mr. Roger McElwain - Chief Executive Officer of University of Otago Language Centre and Foundation Year and Ms. Cao Vu Hoang Chau - Business Development Manager of Viet Nam-New Zealand G2G Know-How, New Zealand Embassy. They are representatives of University of Otago - New Zealand, aiming to find out the opportunity to cooperate with CTU about education...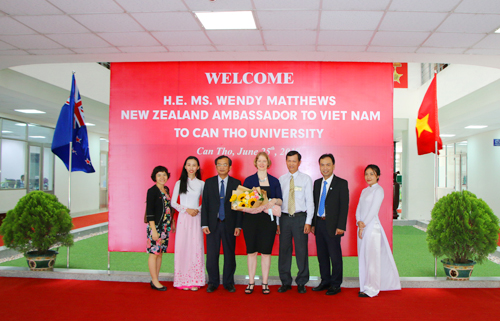 On June 25th, 2019, New Zealand Ambassador to Vietnam - H.E. Ms. Wendy Matthews paid a visit to Can Tho University (CTU), aiming to strengthen the cooperative relationship between the University and New Zealand partners. Welcoming and having a meeting with the Ambassador were Prof. Dr. Nguyen Thanh Phuong, Chairman of CTU Board of Trustees and representatives of CTU's units.
On June 19th, 2019, Can Tho University (CTU) was honored to welcome Ms. Mary Tarnowka, US Consul General in Ho Chi Minh City and the delegation to pay a visit to CTU. Representatives of the Rectorate Board and leaders of CTU's units had a meeting with the delegation of the US Consulate General. In the intimate atmosphere, Prof. Dr. Ha Thanh Toan, CTU's Rector, sent a warm welcome to the delegation of the US Consulate Gene...
On June 17th, 2019, Project Management Unit (PMU) of Can Tho University (CTU) organized a ceremony to open the bidding documents for the package  "Facility construction work for advanced technology laboratory and hatcheries" on Can Tho University Improvement Project. Attending the ceremony were representatives of JICA CTU Project, Consultant. At CTU's side were the members of the Rectorate Board, PMU; and leader repre...
Graduate training is one of CTU's important tasks to improve the qualifications of staff in general and the teaching staff at universities and colleges in particular in the Mekong River Delta region. The University is constantly expanding the training programs to meet the social needs as well as the labor market. Besides 98 undergraduate programs, CTU offers 48 master and 19 PhD programs for over 2,500 students, in which,...