On March 22nd, 2022, Can Tho University (CTU) was honored to welcome the Ambassador of the European Union to Vietnam, H. E. Mr. Giorgio Aliberti, and the Ambassadors of EU member states including Austria, Belgium, Bulgaria, Czech Republic, Denmark, Finland, France, Germany, Italy, Netherlands, Spain, and Sweden. Receiving the delegation was Prof. Dr. Nguyen Thanh Phuong, Chairman of the Board of Trustees; Prof. Dr. Ha Tha...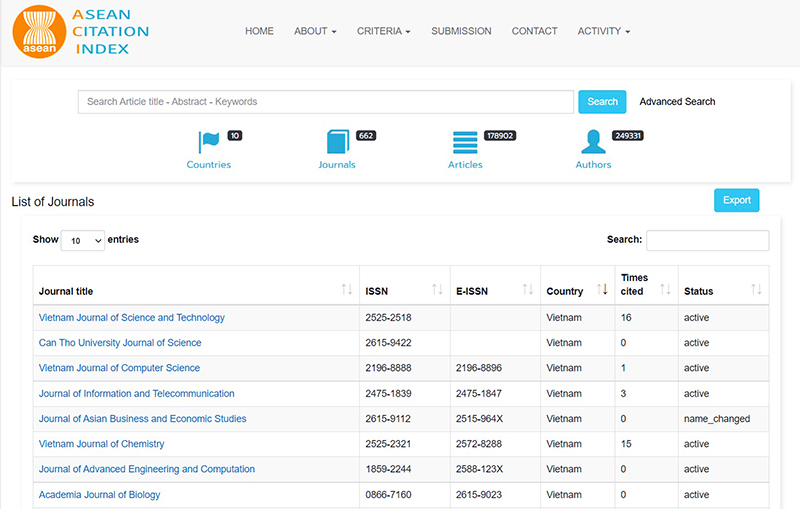 On October 25th, 2021, Prof. Narongrit Sombatsompop - Chairman of the ACI (ASEAN Citation Index) Steering Committee has announced the results of the review of scientific journals to be accepted for indexing in ACI in 2021. Can Tho University Journal of Science is one of five accepted journals out of 15 journals that were applied to ACI this year.
On November 24th, 2021, Can Tho University (CTU) held the Farewell Ceremony of the Technical Cooperation Project - Phase 1 (TC1) to mark the successful completion of the TC1 Project and to acknowledge the remarkable contribution of the members of JICA-CTU Project Office. Attending the ceremony were Prof. Tsunoda Manabu, Chief Advisor of the TC Project, Mr. Kunimoto Kazuhiko, Project Coordinator; Prof. Ishimatsu Atsushi, A...
From November 22nd to 24th, 2021, Can Tho University (CTU) hosted the 42nd Asian Conference on Remote Sensing (ACRS2021) via zoom software with 195 participants representing leaders of agencies, organizations, scientists from countries/regions such as: China, Hong Kong, Korea, India, Indonesia, Japan, Malaysia, Mongolia, Myanmar, Philippines, South Africa, Russia, Singapore, Sri Lanka, Taiwan, Thailand, the United States,...
In 2021, Can Tho University (CTU) applied for external assessment for 8 undergraduate study programs under the ASEAN University Network - Quality Assurance (AUN-QA). Accordingly, 4 study programs which have been assessed in March 2021 and found to be in accordance with the requirements of the standard include (1) Software Engineering, (2) Computer Networks and Data Communication (College of Information and Communication T...