INTRODUCTION ABOUT CAN THO UNIVERSITY
» Video about Can Tho University
The Mekong Delta (MD), with a natural area of about 4 million hectares and over 18.4 million people, is the biggest agricultural production area in the entire country and is considered the rice basket of Vietnam.  Besides rice production, the MD is also rich in fruits and seafood for export. This is a rich land with beautiful scenery including colorful fruit trees all year round.
 
Can Tho University (CTU), an important state higher education institution in the MD, is the cultural, scientific and technical center of the MD and Vietnam. Since its founding in 1966, CTU has been improving and developing itself. It has an enrollment of  about 54.000 undergraduate students; 3.000 students have been following Master programs; and around 300 students are Ph.D candidates. CTU has got over 2.000 staff members including nearly 1.200 teaching staff and 800 supporting staff. From a university with a few fields of study at the beginning, it has developed into a multidisciplinary university. Currently, it has nearly 100 undergraduates, 36 Master and 15 Doctoral training programs. Every year CTU receives students on internship programs from the U.S, Belgium, Japan and so on, or under agreements between their universities and CTU.
 
CTU's main missions are training, conducting scientific research, and transferring technology to serve the regional and national socio-economic development. In addition to its training responsibilities, CTU has actively taken part in scientific research projects, applying the advances in scientific and technological knowledge to solving problems related to science, technology, economics, culture and society in the region. From achievements in its scientific research and international cooperation projects, the university has developed a variety of products and technological production processes that benefit people's lives and promote export, thus helping the University gain prestige in national and international markets.
 
The University has established scientific and technological cooperation with many international organizations, universities, and research institutes. As a result of these cooperative projects, the staff's administrative capabilities and specializations have been upgraded. The facilities, experimental equipment, and scientific materials have also been added.
Vision
Can Tho University is the education and research hub for exchanging, creating, and enhancing knowledge, culture, science, and technology, making a positive impact on sustainable social development.

Mission
To produce highly capable graduates based on a liberal education environment, conduct advanced research and technology transfers on contemporary themes, and contribute to social prosperity development

Core Values
Consensus - Devotion - Quality – Innovation 
Quality Policy Statement
Quality Policy Statement: Recognizing the significant needs for qualified human resources in the society as well as strong competition in training for high quality human resources upon the local and global innovation contexts, Can Tho University is committed to ensuring its quality through continual innovation and integration in education, creativity and dynamics in research and technology transfer; incorporating theory with practice to prepare graduates with sufficient knowledge and skills to be able to perform their work efficiently, to formulate their leadership and to adapt themselves to changes.

Can Tho University is committed to the full establishment and implementation of an efficient, creative, innovative, professional, and responsible governance system. All activities of the University will be systematically and effectively governed through computerized procedures, applying innovative approaches and undergoing regular monitoring and assessment.
Educational Objective
The training activities aim to provide high qualification human resource, enhance knowledge of common people, nurture and promote talented people; the research activities in science and technology aim to create knowledge and new products in serving the demands of social economic developments and assuring the national security and defense, and international integration.
To train learners to grow comprehensively in terms of ethics, intelligence, health, and aesthetics; to possess knowledge, skills and professional responsibilities; to be able to seize advance in science and technology in relevance to the level of education; to possess competency for independent learning, creativity, and adaptability to the working environment; to exhibit the mindset of entrepreneurialism and the sense of serving people
•  Established in 1966 with only four faculties
 
•  Restructured in 1994 and 1995 increasing the scope of education with the founding of larger schools and colleges
 
•  Nationally selected to be one of the 14 key universities in Vietnam (out of 400 higher education institutions across the nation)
 
•  The largest and only multi-disciplinary university in the MD till 2000, serving the needs of nearly 20 million inhabitants in the region.
 
1. CAN THO INSTITUTE (1966 - 1975)
 
Founded on March 31, 1966, Can Tho Institute had 4 faculties:  Sciences, Law and Social Sciences, Letters, and Education.  Previously, the Faculty of Education was training undergraduate (bachelor degree) students, the College of Agriculture was training engineers, and the Center of Foreign Languages was offering foreign language courses.
 
The facilities of Can Tho Institute were located in four places:
 
-  The President's Building (No 5, Hoa Binh Avenue): was the administration center of the Institute.
 
- Campus I (30 – 4 Street): with an area of over 5 hectares, was used as the accommodation for staff members, the dormitory for female students, a model public school for teacher training, the College of Agriculture, and administration buildings for the faculties. 
 
-  Campus II: (3 – 2 Street): with the area of 87 hectares, contained the main classroom buildings of the Institute.
 
- Campus III: (No 1, Ly Tu Trong Street): with the area of 0,65 hectares, was the first training area consisting of the Faculty of Sciences and the library.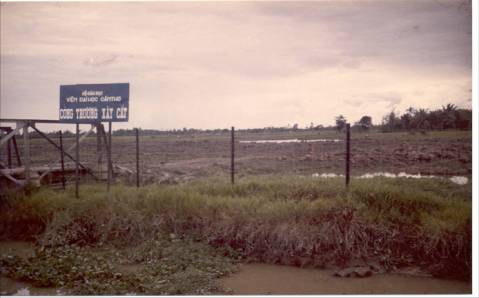 Campus II, Can Tho University (1966)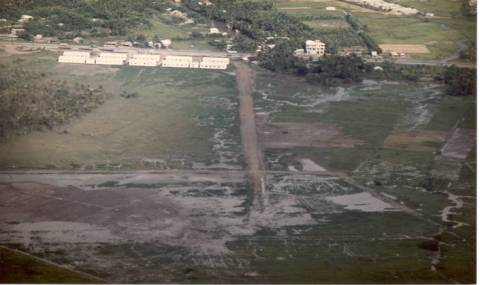 The first rows of classrooms in Campus II (1973)
2. CTU AFTER 1975
 
Can Tho Institute was changed to Can Tho University.  At that time, the training program and existing students of the old Faculty of Education and College of Agriculture continued to be trained within the Faculties of Science Education and Agriculture at Can Tho University. Students of other faculties were transferred to Ho Chi Minh City or to other existing programs at the University.
 
After 1975, the Faculty of Education was separated into the Faculties of Science Education and Social Science-Humanities Education, training upper secondary teachers of mathematics, physics, chemistry, biology, literature, history, geography, and foreign languages. After that, they were expanded to 5 separate faculties: mathematics - physics (1980), chemistry - biology (1980), history - geography (1982), letters (1983) and foreign languages (1983).
 
The College of Agriculture was changed to the Faculty of Agriculture, with 2 training specializations, agronomy and animal husbandry. In 1979, the Faculty of Agriculture was expanded to 7 faculties: agronomy (1977), animal husbandry – veterinary medicine (1978), water management and land improvement (1978), agricultural engineering (1978), food processing and agricultural product preservation (1978), agricultural economics (1979), and fisheries (1979).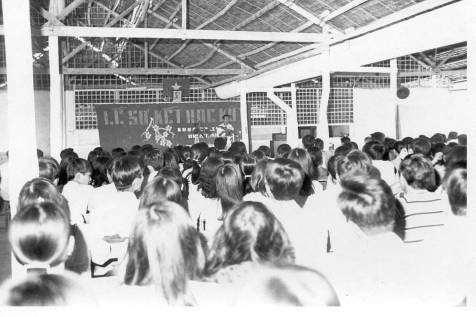 Almost all the classrooms were made of bamboo and thatch leaves (1976).
In 1978, the Faculty of In-service Training was established. It was responsible for managing and developing programs to improve and train upper secondary teachers and others in applied engineering to help control the production of the provinces in the MDMekong Delta. The training period was 5 years.  Since 1981, to meet the increasing need for in-service training in the MDMekong Delta, the University has developed links with the provinces and opened regional Centers for In-service Training and Improvement.  These are now called Centers for Continuing Education: Tien Giang - Long An - Ben Tre, Vinh Long - Đong Thap, Can Tho, An Giang, Soc Trang, Tra Vinh, Kien Giang and Minh Hai.
 
In 1987, to meet the requirement for developing a market-oriented economy in line with the renewal policy of the Communist Party and the Government, the Faculty of Agricultural Economics linked itself with the Ho Chi Ming Economic University and opened 4 more undergraduate specializations: Finance - Credit, General Accounting, Foreign Trade and Business Administration. Similarly, in 1988, the Faculty of Water Management expanded and added 2 undergraduate specializations, hydraulic structure and rural construction, to meet the need for constructing houses and bridges in the rural areas of the MDMekong Delta.
 
In 1990, the faculty of mathematics - physics opened a college-training program with 2 specializations, electronics and informatics. It did so by upgrading its existing electrical workshop to the Center of Electronics - Informatics.
 
In addition to the establishment and development of the faculties, Can Tho University also established  Centers of Scientific Research integrating 3 missions, Training – Scientific Research - Production. From 1985 to 1992, 7 centers were founded, including the Centers of Biotechnology Research and Development (1985), Renewed Energy (1987), Mekong Delta Farming Systems Research and Development (1988), Electronics – Informatics (1990), Shrimp - Artemia Research and Development (1991), Foreign Languages (1991), Science and Technology Information (1992).
 
In April 2003,  the School of Medicine – Dentistry – Pharmacy was separated to form the University of Medicine – Pharmacy under the management of the Ministry of Health.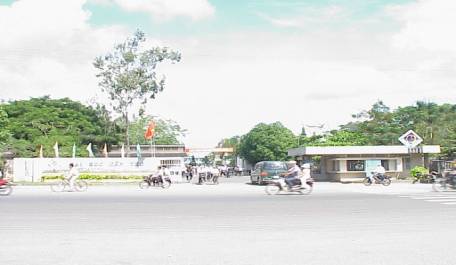 CTU Main Entrance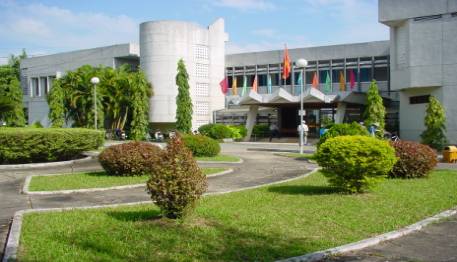 Rectorate Building

During its formation and development processes, CTU always receives support from the Government and the Ministry of Education and Training.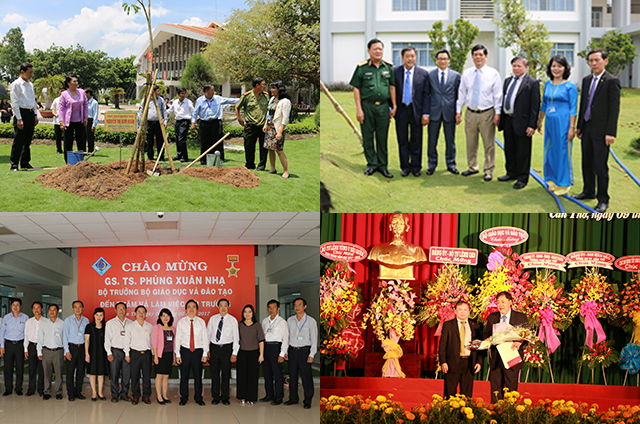 Governmental delegations and the Minister of Education and Training visit the University.
The present organizational structure of Can Tho University
EDUCATION AND TRAINING
In early 2022, Can Tho University (CTU) offers 109 undergraduate programs (2 advanced programs, 8 high-quality programs) with more than 40,000 students, 48 master's programs (3 taught in English), and 20 doctoral programs with about 2,500 students. Every year, the University also receives students from foreign universities (USA, Belgium, Japan, etc.) to study within the framework of cooperation agreement between the University and partners.
The duration of undergraduate programs at CTU is from 4 to 5. The study program consists of the first three semesters for general courses of all majors and basic courses for disciplines. The remaining semesters are for fundamental and specialized knowledge of the majors.
The education quality of the University has been continuously improved, the facilities to serve the learning needs of students have been relatively invested and upgraded, and new teaching methods have been applied suitably.
SCIENTIFIC RESEARCH
CTU has hosted many projects at different levels, expanded scientific research contracts, and transferred scientific and technological advances to serve the socio-economic development of the Mekong Delta region and the whole country.
National research programs in association with domestic and foreign universities implemented in many areas in the Mekong Delta and throughout the country have brought about high social and economic efficiency. Some typical programs include basic surveys in the Mekong Delta; research on alkaline soil; research and production of Artemia - Shrimp; research on freshwater fish farming techniques, nitrogen-fixing microorganisms, biotechnology, processing and preservation of agricultural products; models of farming systems and selection of adaptive rice varieties, pest control on crops, crop improvement, economic gardening, development and transfer of livestock-veterinary techniques, VACB (V is orchard, A is pond, C is livestock and B is biogas) livelihood model, agricultural mechanics and post-harvest technology, the education master plan of the Mekong Delta, teaching and learning methods, production models bringing economic efficiency, the stock market, etc. To implement these programs, CTU has enlisted the support of localities in the Mekong Delta region and funding from international organizations and many other universities.
DOMESTIC COOPERATION
CTU has signed a comprehensive cooperation agreement on training, scientific research, and technology transfer with the Mekong Delta Rice Research Institute and Fruit Research Institute of the South, most of the People's Committees of the provinces in the Mekong Delta, especially, 10 universities of agriculture, forestry and aquaculture in the country.
To meet the need for human resources of society, the University is focusing on strengthening the capacity of graduate education to upgrade the teaching staff of CTU, universities and colleges, and research staff in the Mekong Delta. In addition, it promotes short-term training on transferring science and technology to people in the region.
The mutual cooperation relationship between the University and the provinces in the region is increasingly tightened. The favor of the provinces in the region, especially Can Tho City, for CTU is a solid foundation for the University's sustainable development.