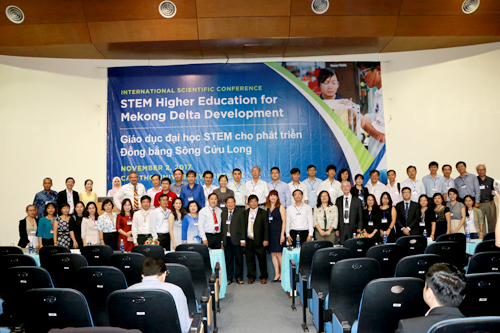 Skilled labor training and the creation of a close link between human resources development and the application of science and technology for the provinces in the Mekong Delta are critical. Science, Technology, Engineering, and Mathematics (STEM) have emerged as a common trend in the region and worldwide and play an important role in promoting social and economic growth.
On November 9th, 2017, Assoc.Prof.Dr. Le Viet Dung, Vice Rector of Can Tho University (CTU) and leader representatives of College of Aquaculture and Fisheries, School of Foreign Languages and International Relations Department welcomed Dr. Marc Millette, Secretary General of Association of Francophone Fisheries Schools, to discusses the opportunities for cooperation between the two sides.
On November 03rd, 2017, Can Tho University (CTU) held national workshop on Information technology in 2017 with the aim of creating a forum for scientists and managers to meet and share experiences and latest research findings in Information and Communication Technology (ICT) sector. The workshop attracted the attention of experts, managers from departments, universities, colleges and research institutes; lecturers and stu...
With the aim of building capacity for Can Tho University (CTU) in three fields (agriculture, aquaculture, and environment) to be an internationally recognized institution of education, scientific research and technology transfer, contributing to value-added agriculture and aquaculture, and solution of environmental issues of the Mekong Delta region, Technical Cooperation Project (TC project) using Japan Government's non...
On October 17th, 2017, Assoc.Prof.Dr. Ha Thanh Toan, Rector of Can Tho University (CTU) and leader representatives of Center for Quality Assurance and Testing, College of Agriculture and Applied Biology, and School of Graduates had a meeting Mr. Berndt Tilp, Information Center,  German Academic Exchange Agency (DAAD), to discuss opportunities for cooperation and introduce scholarships for studying in Germany.