On June 10th, 2019, Can Tho University (CTU) had a meeting with Japan International Cooperation Agency (JICA) on the process of Technical Cooperation Project and CTU improvement Project. Attending the meeting were representatives of JICA, JICA Vietnam Ho Chi Minh Branch, JICA CTU Project. On the side of CTU, there were representatives of the Rectorate Board, PMU, leader representatives of the units, coordinators of the ...
On June 5th, 2019, Can Tho University held the workshop on Transnational Education and Research via the Academic Mobility, Business-University Collaborations and the Joint Postgraduate Programmes in Sustainability, Innovation and Entrepreneurship.
On May 28th, 2019, Teacher Practice High School - Can Tho University (CTU) held the closing ceremony of the school year of 2018-2019. In the 7th school year of 2018-2019 of the High School, 156 students in grade 10 were enrolled with the entry score of 39, the highest one among the high schools in Can Tho city. In July, attending the national graduation examination for twelfth graders, 100% of students passed the examin...
On May 23rd, 2019, Can Tho University (CTU) was honored to welcome H.E. Mr. Gareth Ward, British Ambassador to Vietnam. This is the first visit of the Ambassador to CTU with the aim of promoting cooperative relations between British partners and CTU. At the meeting, representing CTU's leaders, Assoc. Prof. Dr. Tran Trung Tinh, Vice Rector expressed his pleasure to welcome the Ambassador, and introduced the outstanding act...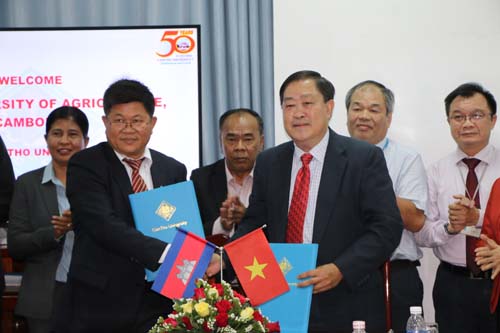 On May 20th, 2019, the MoU signing ceremony between Can Tho University (CTU) and Royal University of Agriculture (RUA), Cambodia took place at CTU's Administrative Building. Representing the two sides, Prof. Dr. Ha Thanh Toan, CTU's Rector and Mr. Ngo Bunthan, Rector of RUA signed the MoU with the aim of promoting cooperative relationship between the two units through such activities as exchange of lecturers and research...