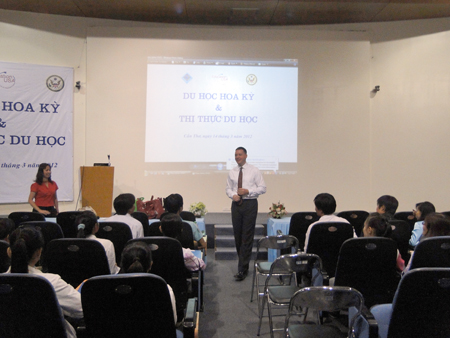 On March 14th 2012, in collaboration with the U.S. Consulate-General in Ho. Ho Chi Minh City, Can Tho University (CTU) held an introduction meeting at the hall of Learning Resources Center – CTU to introduce information on study overseas and how to ask for a visa to the United States (U.S). The information about studying and student visa in the U.S was directly presented by officials of the U.S. Consulate-General, inclu...
On March 12th 2012, at the hall of College of Agriculture and Applied Biology, Can Tho University (CTU) in collaboration with Learning Encouragement Association of Can Tho City held the ceremony to present scholarships (1000.000 VND per scholarship) to 32 CTU students who have overcome difficulties to study well. The scholarships were sponsored by Vietnamese - Swiss Cultural Association. Participants at the ceremony were ...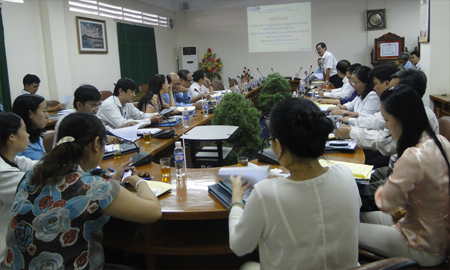 On March 9th 2012, CTU held the conference to report and discuss the affairs of quality assurance. The conference was presided over by A/Prof. Dr. Do Van Xe, representing CTU Rectorate Board, along with representatives of leaders from CTU colleges, schools, departments and centers. On assignment of CTU Rectorate Board, Quality Assurance and Testing Center (QATC) takes responsibilities in inspecting, assessing, researching...
In the morning of March 8 2012, on celebration of 102 years of International Women's Day and 1972 years of Trung Ladies' Uprising in Vietnam, Can Tho University held the traditional meeting at the Great Hall. Representing the CTU leaders to congratulate CTU female staffs were A/Prof. Dr. Ha Thanh Toan – Rector, A/Prof. Dr. Tran Thi Thanh Hien – Secretary of Communist Party Committee of CTU, Mr. Chau Van Luc – Vi...
On March 7th 2012, Can Tho University (CTU) and Institute of Research for Development, France (Institut de recherche pour le développement – IRD) signed the agreement for research and training. The signing ceremony was hosted by representatives of CTU Rectorate Board, including A/Prof.Dr. Ha Thanh Toan – Rector, A/Prof. Dr. Le Viet Dung – Vice Rector, A/Prof.Dr. Le Quang Tri – Vice Rector, along with leaders of D...