On April 7th, 2023, Can Tho University (CTU) held a signing ceremony of cooperation with Andong National University, Korea, to establish a long-term cooperation relationship, thereby proposing and implementing cooperation activities in the field of higher education.
The ceremony took place at the Administration Building, CTU
At the signing ceremony, Prof. Dr. Ha Thanh Toan, Rector of CTU, emphasized that the mission of the University is to focus on training, scientific research, and technology transfer to promote sustainable socio-economic development for the Mekong Delta region, with the goal of reinforcing the University's reputation to be recognized as an excellent educational institution in Vietnam and in the world.
The Rector expressed the joyfulness when CTU and its Korean partners share a close cooperation relationship; accordingly, there are 29 memoranda of understanding signed with Korean partners. Some noticeable partners can be listed as CJ CheilJedang Group, Korea Environment Institute, Korea Institute of Industrial Technology, and CJ FEED Ingredient Vietnam Co., Ltd.
At the meeting, the two sides discussed and found their common interests, and wished to establish a strong relationship with each other in education, scientific reasearch, and exchanges of students and staff.
The two units discussed the cooperation activities in the coming time
Prof. Dr. Ha Thanh Toan and Mr. Kwon Soon Tae represented the two units to sign the memorandum of understanding
The leaders of the two units exchanged token to mark the cooperation established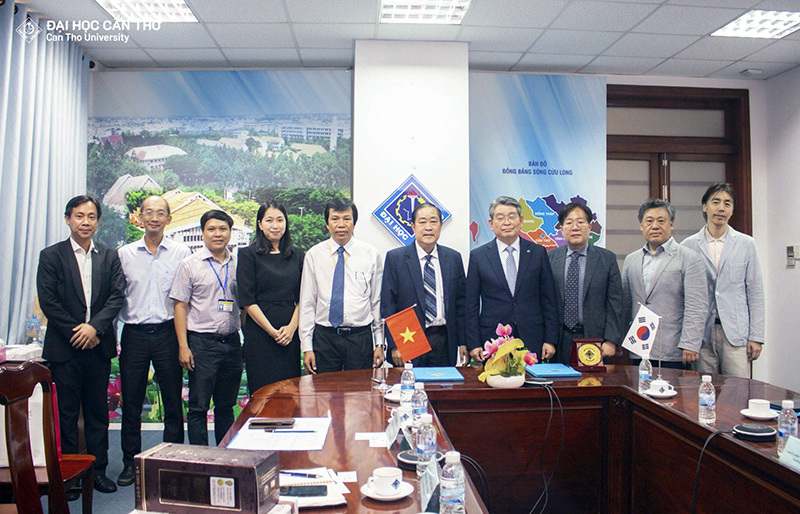 Group photo
(Website editorial team)