On October 21st, 2019, the bid opening ceremony for package 2 "Monitoring subsidence of works" under Can Tho University Improvement Project was held by the ODA Project Management Unit (PMU), Can Tho University (CTU). Attending the ceremony were members of PMU, leader representatives of CTU's units and bidders.
On October 4th, 2019, ODA Project Management Unit, Can Tho University (CTU) held Contract Signing Ceremony for Package 05 "Facility construction work for research laboratory complex (RLC) and net houses" and Package 06 "Facility construction work for advanced technology laboratory (ATL) and hatcheries" under CTU Improvement Project.
On October 2nd, 2019, Can Tho University (CTU) had a meeting with H. E. Mr. Őry Csaba, Hungarian Ambassador to Vietnam to discuss cooperative activities between CTU and Hungarian Embassy in Vietnam as well as Hungarian partners in the near future. Meeting with the Ambassador is Prof. Dr. Ha Thanh Toan, Rector and leader representative of School of Social Sciences and Humanities, and Department of International Relations....
On September 07th, 2019, Can Tho University (CTU) solemnly held opening ceremony of the 2019-2020 school year. The opening ceremony was attended by national and international guests to share the joy of a promising school year with full of achievements.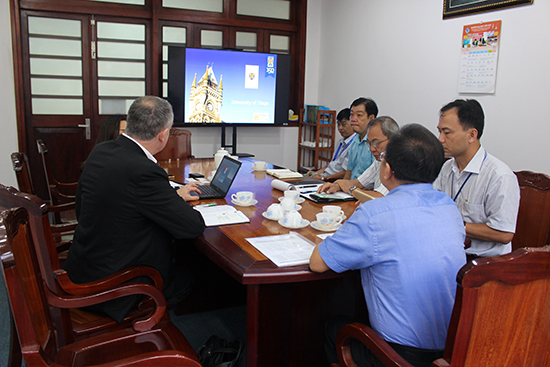 On August 21st, 2019, Can Tho University (CTU) was honored to welcome Mr. Roger McElwain - Chief Executive Officer of University of Otago Language Centre and Foundation Year and Ms. Cao Vu Hoang Chau - Business Development Manager of Viet Nam-New Zealand G2G Know-How, New Zealand Embassy. They are representatives of University of Otago - New Zealand, aiming to find out the opportunity to cooperate with CTU about education...