On the afternoon of February 14, 2023, Can Tho University (CTU) had a meeting with the United States Agency for International Development in Vietnam (USAID Vietnam), State partners from Vietnam Administration for HIV/AIDS Control, Ministry of Health and Project Implementation partners. This is the first face-to-face session to discuss opportunities for cooperation between USAID and CTU in 2023.
Delegation of USAID visiting Can Tho University
At the meeting, Prof. Ha Thanh Toan, Rector, gave a welcome speech to the delegation, briefly introduced CTU as well as outstanding achievements in cooperation with U.S. partners, and expressed his pleasure and appreciation for the continued opportunity to cooperate with USAID Vietnam.
 CTU side
In particular, during this visit, there was the presence of Assoc. Prof. Phan Thi Thu Huong – Director, Vietnam Administration for HIV/AIDS Control, Ministry of Health. Speaking at the meeting, she informed us about USAID's role in HIV/AIDS prevention and treatment programs in Vietnam and hoped that CTU would actively develop dynamic cooperation activities, including USAID, towards the goal of sustainable development of the Mekong Delta in the future.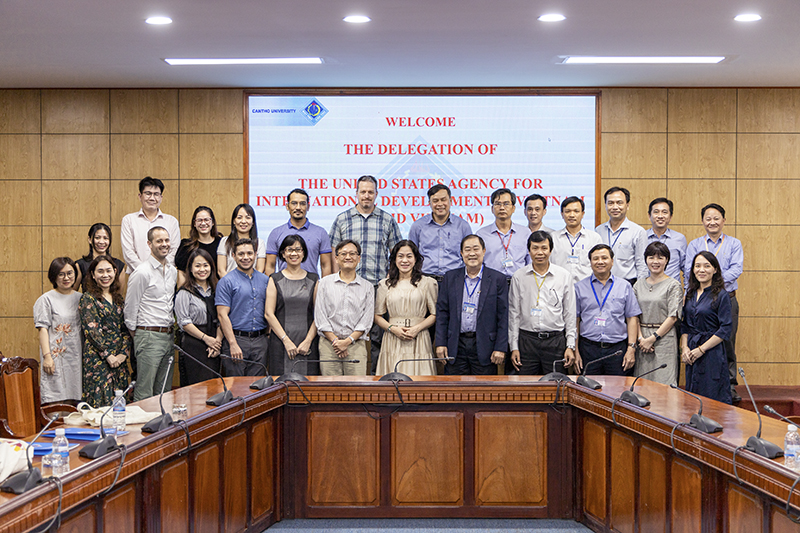 Group photo after the meeting
During this visit, Mr. Timothy Ong – Section Chief, Ho Chi Minh City office presented a draft of USAID's Mekong Delta office. The office will be located on the ground floor, the Learning Resource Center of CTU, with an area of about 110m2. With the upcoming plans, Mr. Timothy Ong shared that USAID and CTU will continue their long-term partnership in the fields of higher education, health, scientific research, and climate change, thereby supporting contributions to the socio-economic development of the region in particular and the country in general.
Department of International Relations
Photo by: Information and Network Management Center