In three days from 26 to 29 July 2023, Can Tho University, in collaboration with University of Agriculture and Forestry, Hue University; Nong Lam University; Tay Nguyen University; Vietnam National University of Agriculture, and the French Agricultural Research Centre for International Development (CIRAD, France) organized the first International Conference on Bioprotection for Sustainable Agriculture (ICBPSA23).
This conference was sponsored by the French Embassy in Vietnam and is part of the celebrations of the 50th anniversary of diplomatic relations between France and Vietnam. The conference was also supported by CIRAD to commemorate the 30th anniversary of CIRAD's scientific cooperation in Vietnam, as well as ASEA (Agroecology in South-East Asia), a research and training partnership platform that brings together research and educational institutions with a common interest in supporting Agroecological transition in South East Asia.
Attending the conference were Dr. François Louis Roger, Regional Director of CIRAD; Dr. Marion Chaminade, Regional Counsellor for Agricultural Affairs, French Embassy in Vietnam; Prof. Dr. Ha Thanh Toan, Rector of CTU with more than 140 representatives from the Ministry of Agriculture and Rural Development, universities, research institutions, and agricultural companies from Vietnam as well as various countries around the world such as France, America, Thailand, India, Japan, Cameroon, Canada, Australia, Egypt, Indonesia, Singapore, etc.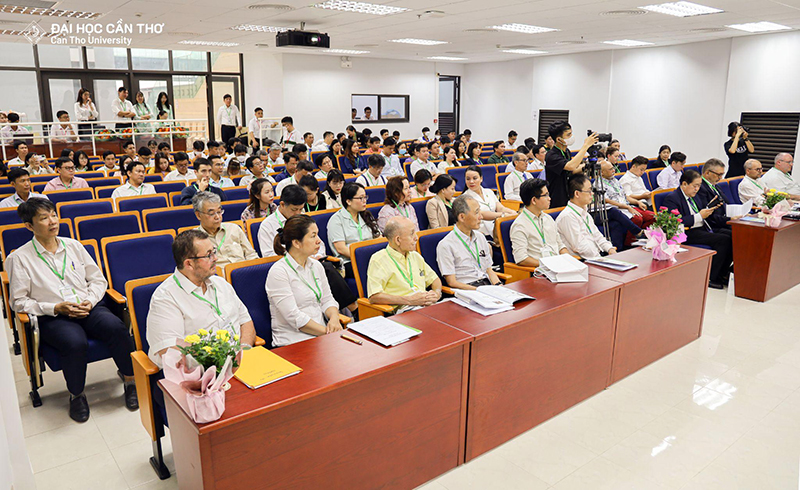 The conference was taking place at the CTU Hi-Tech Building (ATL)
In his welcome speech, Prof. Dr. Ha Thanh Toan, Rector of CTU, confirmed the role of Bioprotection in agriculture. Thereby, it was believed that the conference would provide vital information to support diverse stakeholders including policymakers, agricultural professionals, researchers, and industry leaders. By delving into Bioprotection principles and practices in agriculture, attendees would gain insights into disease prevention, sustainable pest management, biodiversity preservation, and responsible resource use. This knowledge exchange would empower participants to make informed decisions, implement effective biosecurity measures, and collaborate across disciplines, fostering a resilient and sustainable future for global food production and public health.
Prof. Dr. Ha Thanh Toan delivered a welcome remark
Speaking at the conference, Dr. Marion Chaminade, Regional Counsellor for Agricultural Affairs, French Embassy in Vietnam, expressed her delight at the close relationship formed between France and Vietnam in many fields. Besides, Dr. Marion Chaminade hoped that this conference and the opportunities brought by the Free Trade Agreement between the European Union and Vietnam would have a strong impact on the projects in the field of environment and agriculture, towards promoting a model of sustainable agriculture that offers a fair return to producers and is capable of adapting to global warming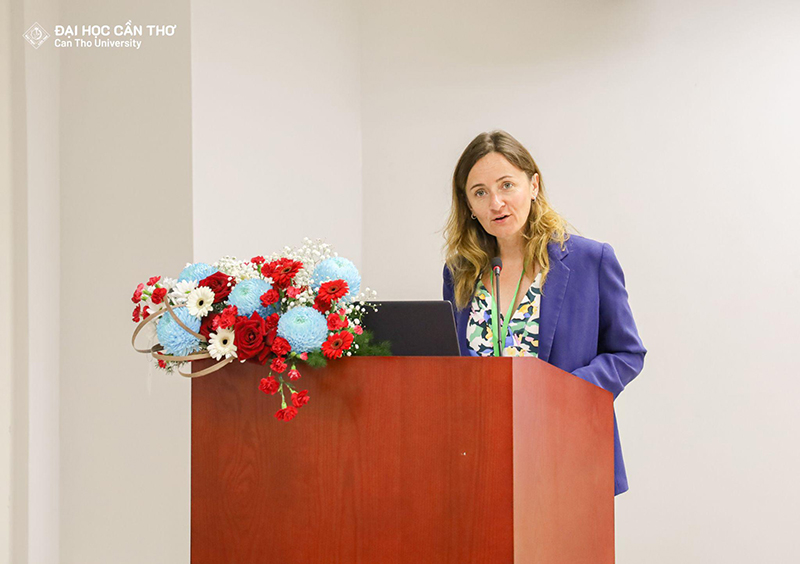 Dr. Marion Chaminade spoke at the conference
Dr. François Louis Roger, Regional Director of CIRAD, affirmed that Bioprotection, which focuses on using natural mechanisms to control pests, diseases, and environmental risks, is a promising strategy to preserve crops while promoting sustainable and resilient agricultural systems. This conference is an opportunity to build bridges, share ideas, and support our collective resolve to positively impact Vietnam, Southeast Asia, and the world.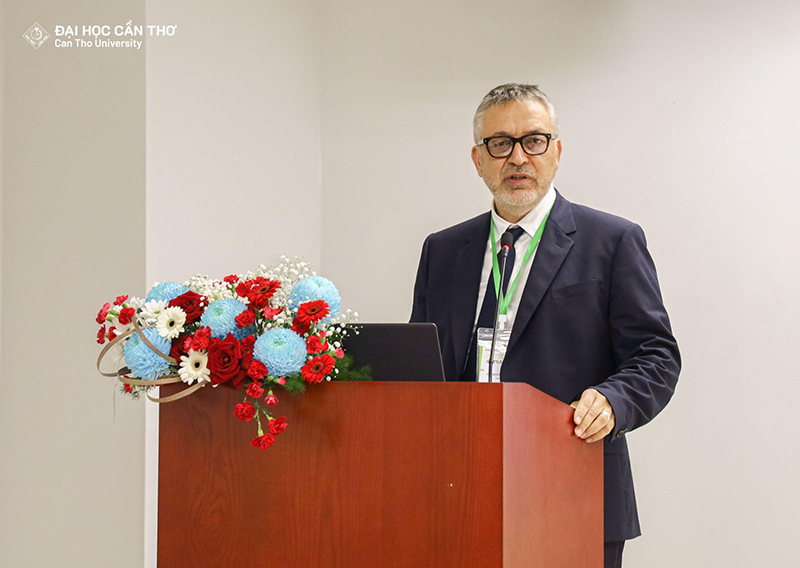 Dr. François Louis Roger in his speech
The conference took place in three days with two plenary sessions, two parallel sessions, and one-day field trip in Tien Giang province. The conference received over 60 papers from leading national and international experts, researchers, and policymakers. Among them, 15 papers were reported at the plenary sessions, and 47 were reported at the parallel sessions. Those experts presented cutting-edge research, innovative technologies, and best practices revolving around the issue of biological protection contributing to sustainable agricultural production.
Reports at the reference
This conference provided diverse stakeholders with vital information on Bioprotection principles and practices in agriculture. The attendees gained insights into disease prevention, sustainable pest management, biodiversity preservation, and responsible resource use. This knowledge exchange might empower participants to make informed decisions, implement effective biosecurity measures, and collaborate across disciplines, fostering a resilient and sustainable future for global food production and public health 
Group photo
(Website Editorial Team)