On October 29th, 2020, Can Tho University (CTU) was honored to welcome Ms. Emily Hamblin, British Consul General in Ho Chi Minh City to visit the University. Welcoming and working with the Consulate's delegation were Prof. Dr. Ha Thanh Toan, Rector and leaders of CTU's units.


Prof. Dr. Ha Thanh Toan, CTU's Rector welcoming the British Consul General

At the meeting, Prof. Dr. Ha Thanh Toan, CTU's Rector sent a warm welcome to the Consul General and the delegates, then shared an overview of CTU and cooperation activities between the University and British partners over the past years, especially the 1000 Mekong Program and 13 projects supported by partners from the UK.


Prof. Dr. Ha Thanh Toan introduced briefly about the University, the cooperation with partners from the UK and the socio-economic situation in the Mekong Delta

At the meeting, Ms. Emily Hamblin, Consul General of the UK in Ho Chi Minh City, expressed her joyfulness for the first coming to Can Tho city in her new position. She was impressed with the University's achievements, at the same time, sent congratulations to CTU on its 54 yeas of establishment. Ms. Emily Hamblin was excited to exchange information about the educational, economic and social situation of the Mekong Delta in the context that the region has faced difficulties and challenges posed by climate change. Representatives of College of Environment and Natural Resources, Mekong Delta Development Research Institute also shared the research programs and projects for climate change adaptation solutions. Thereby, Ms. Emily Hamblin appreciated the efforts of the University, and affirmed that with the support of the Consulate General, the cooperation opportunities between CTU and British partners will be promoted in the coming time.


Ms. Emily Hamblin, British Consul General in Ho Chi Minh City, exchanged information at the meeting
Assoc. Prof. Dr. Nguyen Hieu Trung, Director of Research Institute for Climate Change shared the research situation of climate change at CTU
Assoc. Prof. Dr. Van Pham Dang Tri, Vice Dean of College of Environment and Natural Resources, summarized the project in cooperation with the British partners
The Rector sent gift to the Consul General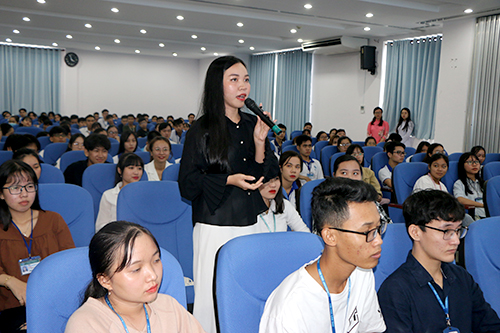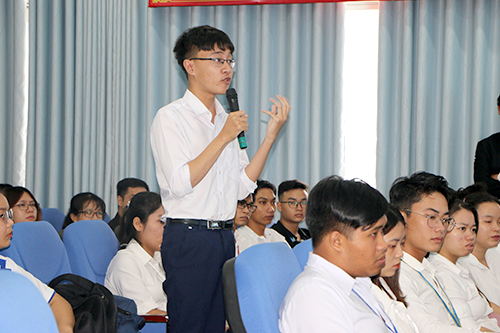 The British Consul General met and discussed with CTU's students
Group photo
(CTU Journal of Science)