Within the framework of the application of the remote sensing project between the US Boeing Company and the Australian Commonwealth Scientific and Technological Research Organization (CSIRO), from March 2-3, 2023, at Can Tho University (CTU), Dragon Institute in collaboration with Vietnam Space Technology Application Center (VNSC) and RYNAN Technologies Vietnam Joint Stock Company under My Lan Group held a seminar on The 4th CSIRO-Boeing remote sensing project in Vietnam, application for the Mekong Delta Region (MDR) at the Learning Resource Center, CTU.
In the context of globalization and international integration, the Mekong Delta is still facing many challenges, especially with climate change. On that basis, this seminar was conducted with the aim of introducing and applying advanced remote sensing technology toward the sustainable development of the region.
Attending the seminar, on the side of the organizers, there was the participation of Dr. Lam Dao Nguyen, Director of Ho Chi Minh City Space Technology Application Center (STAC); Mr. Nguyen Thanh My, Chairman of My Lan Group. On the sponsor side were Ms. Summer Locke and Mr. Arun Muley, representatives of Boeing USA; Mr. Michael Nguyen, National Director of Boeing Vietnam; Assoc.Prof.Dr. Minh Nguyen and Mr. Matthew Paget, Representative of CSIRO Australia. On the side of CTU, there were Prof. Dr. Tran Ngoc Hai, Vice Rector; Assoc. Dr. Nguyen Hieu Trung, Vice Rector; Assoc. Dr. Van Pham Dang Tri, Director of the Dragon Institute, and 80 delegates from institutes, universities, corporations, enterprises, and managers in the Mekong Delta provinces attended.
 General discussion of the panel 
The seminar was divided into 3 sessions with 2 main topics: (i) The application of new remote sensing (EO) technology and experience sharing with EO practitioners and analysts; (ii) Remote sensing applications for businesses and communities. Among the 3 discussion sessions, 15 presentations and reports were presented, covering topics related to the application of remote sensing technology for sustainable development in the Mekong Delta, and possible models for adaptation to climate change. Along with that, there were discussions with opinions and suggestions from experts on the potential of remote sensing technology application in the Mekong Delta; opportunities and challenges for that application in Vietnam; and business model and ecosystem for remote sensing application.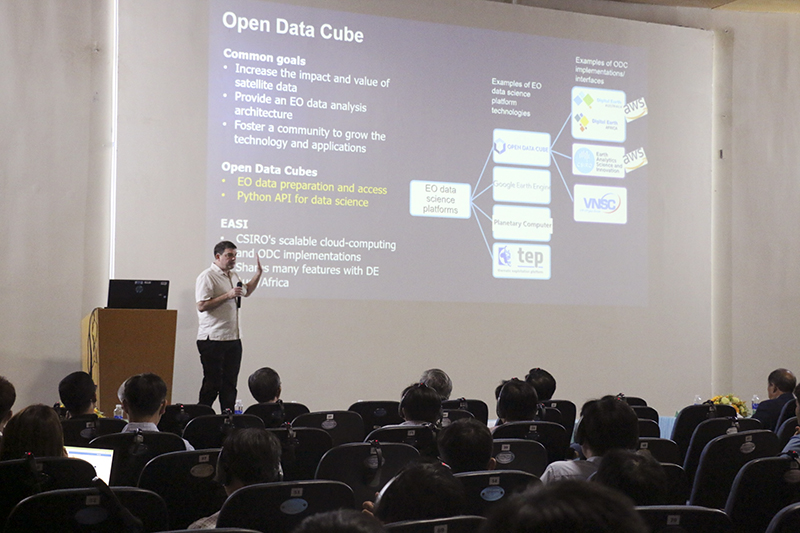 Reports and introductions at the seminar
The seminar was successfully held with all the questions and problems being discussed, along with solutions proposed by experts in the field. The CSIRO-Boeing remote sensing project is expected to be one of the new steps to help solve the difficult problems the Mekong Delta is facing.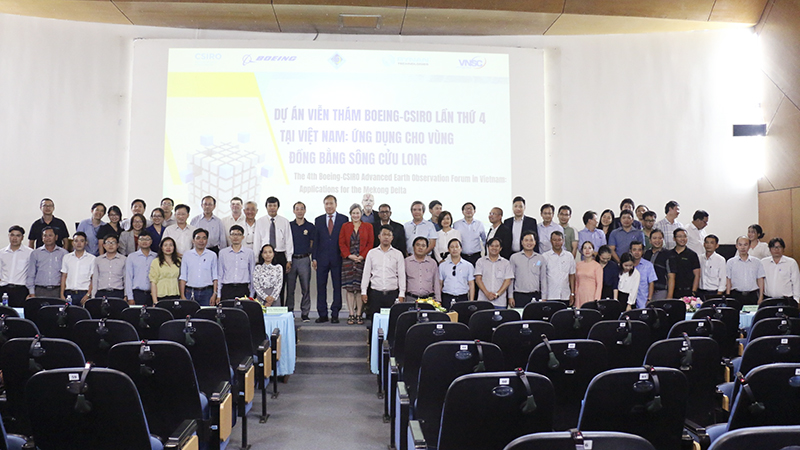 Photo session of the representatives
(Website Editorial Board )