The project "Building university-industry learning and development through innovation and technology" (BUILD - IT for short), was sponsored by the United States Agency for International Development (USAID) and conducted by Arizona State University (ASU). USAID BUILD - IT has mobilized its partners to promote the creative and innovative space movement into universities and incubators in Vietnam. During the past 7 years, the BUILD - IT project has helped Vietnamese universities establish and operate innovation space in Da Nang, Ho Chi Minh, and Can Tho. The BUILD - IT project has also been providing mentoring for universities to manage innovation spaces.
Through the Innovation Space, students, lecturers, and startups build and redesign their ideas from prototype to final product to solve problems for organizations, schools, and non-profit organizations. This is where they solve the real-world problems we face today.
On September 23, 2022, BUILD - IT Project cooperated with Can Tho University to organize the fourth Innovation Space forum in the Playbook forum series. The Innovation Space Forum, also known as MIS (Maker Innovation Space) brings together experts from universities, businesses, and government to share the importance, success, and challenge of setting up and operating this space. This forum is also a place to share how to use all the spaces' resources to support the development of ideas from innovators within the university and the startup community into prototypes and final products.
Overview of Forum "Maker Innovation Space" of BUILD - IT project at Can Tho University
The Innovation Space Forum at Can Tho University was attended by Mr. Mitch Kirby, Senior Education Advisor, USAID, Dr. Nguyen Anh Dung, Deputy Director University Education Department, Ministry of Education and Training, Mr. Matthew McWhorter, Leader of the Innovation Space Design Team, Arizona State University, USA. Representatives of city departments, universities, and businesses in the Mekong Delta.
In 2022, the forum series of the BUILD - IT project focuses on the main topics in the BUILD - IT Playbook. Topics covered in this playbook include Practical Problem-Based Learning, Digital Integrated Learning Methods, Accreditation Board for Engineering and Technology (AUN - ABET), Women in the Field STEM, Innovation space, etc.
Mr. Mitch Kirby, Senior Education Advisor, USAID, gave the opening speeches and introduced the Forum
Dr. Nguyen Anh Dung, Deputy Director University Education Department, Ministry of Education and Training, delivered a speech
Prof. Dr. Ha Thanh Toan, Rector of Can Tho University, shared about the School's Invention Space
Since April 2019, Can Tho University's Invention Space has been established with the great support of the BUILD-IT project with 105,000 USD and Can Tho University with 60,000 USD.  The BUILD-IT project has brought in modern tools and equipment, while Can Tho University has built a great space for its Invention Space activities. This space is located at the Faculty of Information and Communication Technology and is managed and operated by the Faculty of Technology.
The main goal of Can Tho University's Invention Space is to serve the passion for innovation of students and lecturers of engineering - technology industries.  This is considered an excellent manufacturing laboratory for the research and learning activities of Can Tho University students.
Since the School's Innovation Space was established, it has contributed a lot of practical and useful activities for both college students and high school students.  The program includes creativity and innovation-related activities, scientific research, training, project-based courses, and industry networking.  In 2019, the number of students participating in the University's Invention Space was more than 2,600 students.  And there are many STEM programs made for both high school students and teachers.  Before the Invention Space was born, student prototypes related to projects or courses were very simple.  Prototypes become more professional and perfect after students join the Invention Space. In addition, the students have participated in many national and international competitions on science and technology innovation with great prizes.  Moreover, the number of projects and theses increases every year.  The students are doing internship programs at foreign universities and companies.  Many high schools in the Mekong Delta have visited and experienced this innovation space.  CTU's patent space also has a very good relationship with industry partners.  They provided budget support to retrofit tools and equipment for Patent Space operations.  This gives our students the opportunity to develop their careers and jobs after graduation
Mr. Matthew McWhorter, Leader of the Innovation Space Design Team, Arizona State University, with the main report on "Lessons learned from BUILD-IT's Innovation Space", experience in program building  and innovation space management
Talk show session.
The talk show of experts including Dr. Pham Bach Duong, Director of Innovation and Entrepreneurship, Ho Chi Minh City University of Technology and Education; Dr. Le Hoang Anh, Manager of Open Workshop, Lac Hong University; Mr. Pham Minh Quoc, Director of the Vietnam - Korea Incubator, shared about the potential impact of the Innovation Space, specifically the cooperation between the innovation space and business partners and benefits from such cooperation bring to the university and the Vietnamese workforce.
At the program, the delegates were guided by Mr. Matthew McWhorter, Leader of the Innovation Space Design Team, at Arizona State University to set up an innovative space, specifically introduce the idea of ​​establishing an innovation space, participants, plans, short-term and long-term goals in the establishment of innovation space. Besides, experts and scientists from the universities enthusiastically shared and exchanged experiences in the process of building and operating the innovation space.
Mr. Matthew McWhorter guides the establishment of an innovation space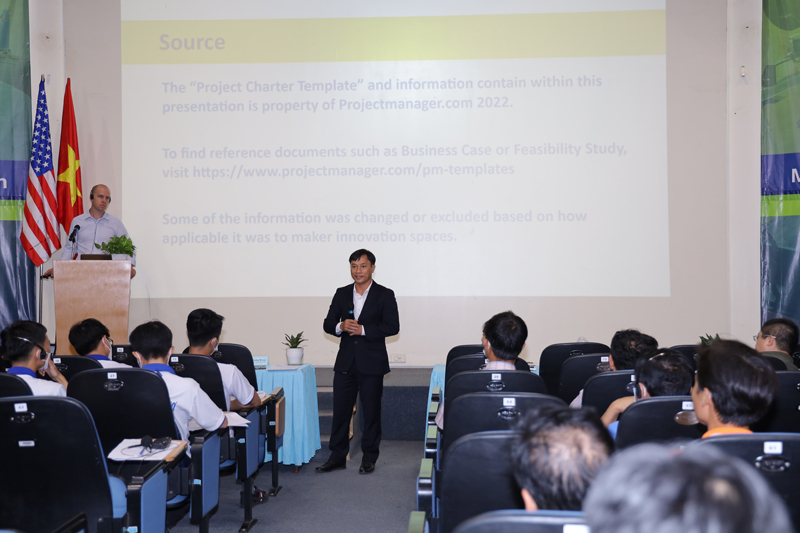 Representatives of universities discuss and exchange experiences in the establishment and operation of innovation spaces
Delegates visited and learned about projects and products from Can Tho University's Invention Space

(Web Editorial Team)