A female scientist from Can Tho University is honored with Kovalevskaia Award. 
Prof. Dr. Nguyen Minh Thuy, College of Agriculture, Can Tho University, is one of the two awardees of Kovalevskaia Award 2021.  
Prof. Nguyen Minh Thuy (first from the right) at the award ceremony 
Prof. Nguyen Minh Thuy was born in 1961 in An Giang province. At 31, she was conferred a master's degree in Postharvest Technology at the Asian Institute of Technology - AIT, Thailand.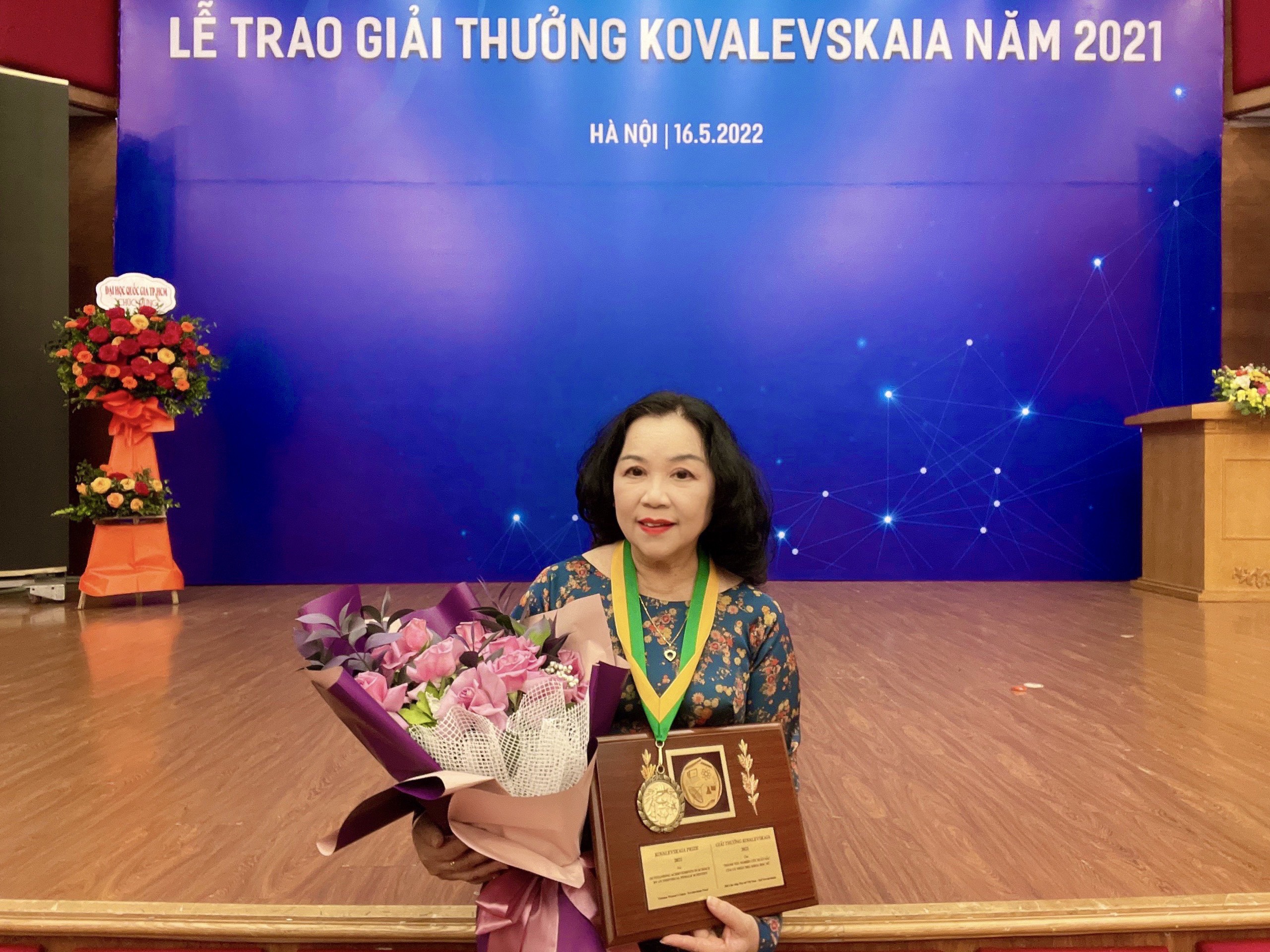 Prof. Nguyen Minh Thuy with Kovalevskaia Award 
In 2007, she obtained doctoral degree in Bioscience Engineering from Catholic University of Leuven (Katholieke Universiteit Leuven - KU Leuven), Belgium. Then, she was recognized with an Associate Professor title in Food Technology in 2010 and a Professor title in 2020. Especially, she was one of three female professors in Chemistry - Food Technology interdisciplinary in 2020.   
Prof. Nguyen Minh Thuy's studies aim to seek solutions and strategies addressing issues related to consuming agricultural products and helping farmers and the agricultural sector overcome difficulties caused by diseases, disasters, etc. Her findings have been widely applied in real contexts and proved the effectiveness. Prof. Nguyen Minh Thuy has published more than 70 scientific papers in prestigious international journals (ISI, SCOPUS) and proceedings, besides more than 120 scientific articles in national journals and proceedings. In addition, 74 results of scientific research were presented at international and national conferences.
Prof. Nguyen Minh Thuy with her students at Can Tho University
Kovalevskaia Award is named after Sophia Kovalevskaia (1850-1891) - a well-known Russian female mathematician in the 19th century. In Vietnam, Kovalevskaia Award started to be awarded in 1985, and it was given to those who had outstanding contributions in numerous fields such as Mathematics, Chemistry, Biology, Education, Medicine, and Agriculture. Up to now, 20 collectives and 51 female scientists have been honored with this prestigious award.
News, photos: Information and Network Administration Center