On December 10th, 2019, Japan International Cooperation Agency (JICA) Vietnam Office held a ceremony to present JICA President Award to Can Tho University (CTU).
 
Since 2005, JICA has presented JICA President Award to individuals and institutions that have made particularly significant achievements in human resource development and social development in developing countries through international cooperation projects. In 2019, 58 individuals and institutions around the world were received this award. CTU, which has made great contributions to the promotion of relationship between the two countries through JICA projects and the sustainable development of the Mekong Delta region, is one of three organizations in Vietnam to be awarded with the 15th JICA President Award.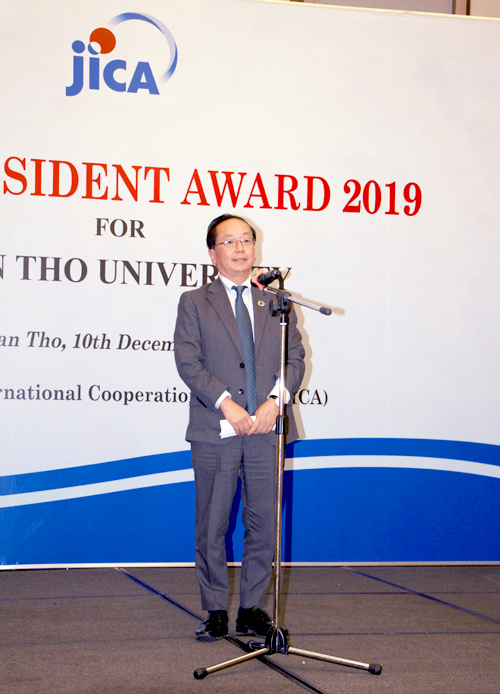 Mr. Konaka Tetsuo, Chief Representative of JICA Vietnam Office brieftly reviewed the cooperation between Japan and CTU, expressed his deep appreciation for the efforts and enthusiasm of the people involved in the JICA projects

Since its establishment in 1966, CTU has produced many leaders in the region, as a core institution for developing human resources for agricultural development, with support from Japan. In Vietnam, one of the world's most susceptible countries to climate change, CTU has been working hard for the sustainable development of the Mekong Delta.

JICA's first support for CTU dates back 50 years. In 1969, the first agreement on the "Technical Cooperation Project for Agricultural College" was signed. The "Technical Cooperation Project", which has been conducted since 2015, is capable of developing human resources to respond to various issues in the agriculture, fisheries and environmental fields brought about by climate change. Utilizing research results is contributing to sustainable development under the influence of climate change. In the framework of the ODA loan project (CTU Improvement Project), the groundbreaking ceremony for the construction of advanced technology laboratory and research laboratory complex has been held in November.

CTU has been donated former Emperor Akihito's papers on the discovery of goby's new species collected in the Mekong Delta, and it is a symbol of friendly relations between Japan and Vietnam.
 

Mr. Tran Dai Hai, Ministry of Education and Training, sent congratulations to CTU
Speaking at the ceremony, Rector of CTU, Prof.Dr. Ha Thanh Toan expressed his honor to celebrate this event which can be seen an improtant milestone in the progress of CTU Improvement project and Technical Cooperation project as well as the meaningful relationship of Vietnam and Japan. Since its foundation in 1966, CTU has affirmed its position and an important role as a leading research and training center in the region, especially in the field of agriculture, aquaculture and environment. CTU will continue to make great efforts for the socio-economic development of the region.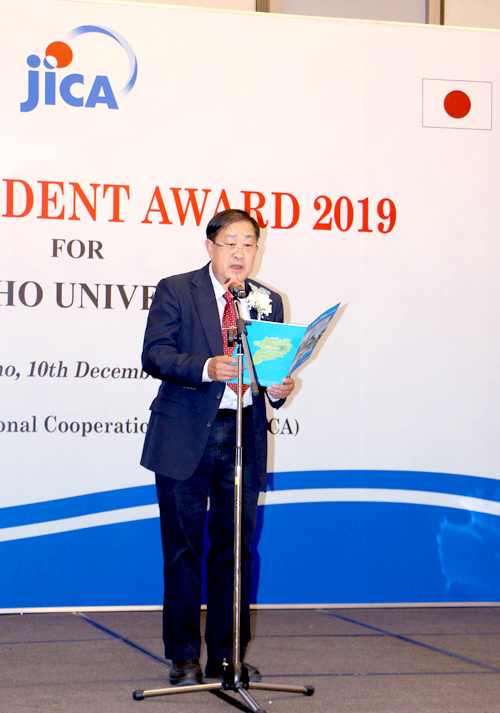 Prof. Dr. Ha Thanh Toan, CTU Rector, sent a speech at the ceremony
Mr. Konaka Tetsuo presented JICA President Award and souvenirs to CTU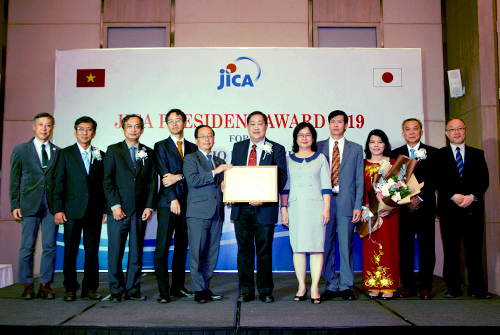 Group photo
(Can Tho University Journal of Science)