On March 22nd, 2021, Can Tho University (CTU) held the online opening session of the 205th AUN-QA Assessment at Can Tho University. The participants from the AUN-QA team included Dr. Choltis Dhirathiti, Executive Director of AUN; Prof. Dr. Raymund Sison (Philippines), Chief Assessor of the assessment in CTU; the Lead Assessors: Assoc. Prof. Dr. Tan Jay Chuan (Singapore), Prof. Dr. Yahaya Md. Sam (Malaysia), Prof. Dr. Marilou G. Nicolas (Philippines); the Assessors: Assoc. Prof. Dr. Sumet Umchid, Dr. Coralie Therese Dimacali (Philippines), Prof. Dr. Patricia Empleo (Philippines), Dr. Pepen Arifin (Indonesia); Dr. Nguyen Huy Phuc, Local Verifier; the AUN-QA Secretariat: Ms. Monsiri Chintanavisit and Ms. Supitcha Thitisomboon. At CTU's side were Prof. Dr. Ha Thanh Toan, Rector; Assoc. Prof. Dr. Tran Trung Tinh, Vice Rector; representative of the Board of Trustees; Dean, Vice Deans, Heads of Departments, lecturers and staff from the study programs to be assessed in accordance with AUN-QA criteria.
The opening session of the 205th AUN-QA Assessment at CTU
AUN-QA Team and CTU's side
Located in the heart of the Mekong Delta, over 55 years from its foundation (March 31, 1966), CTU is now a key national institution of education. Currently, CTU offers 176 undergraduate, master and doctoral study programs with nearly 48,000 students. The university has 59 units with a total staff of more than 1,800 people, of which there are more than 1,000 teaching staff, especially 100% of lecturers have postgraduate qualifications with 158 professors and associate professors.
Always striving to become a highly ranked educational institution in the region and the world, CTU constantly improves the quality of training, not only meeting quality standards in the country, but also assessing to regional and international quality accreditation standards. In July 2013, that the University officially became a member of AUN created favorable conditions for the University to reach a deeper level of regional quality standards and to accompany with other universities in the network to strengthen the implementation of the quality assurance. Also in the this year, the first undergraduate program named Agricultural Economy was accredited and recognized to meet the AUN-QA standards on July 15th, 2013.
Assoc. Prof. Dr. Tran Trung Tinh, CTU's Vice Rector, provided a short overview of CTU and highlighted key features
In 2014, the University continued to implement an external assessment using AUN-QA standards for two advanced undergraduate programs in Aquaculture and Biotechnology that are taught in English. The certificates were signed by AUN on November 15th, 2014. In 2010, two undergraduate study programs in Information Technology and International Business were certified by AUN on August 27th, 2018.
Prof. Dr. Ha Thanh Toan, CTU's Rector, stated briefly about the previous AUN-QA practices at CTU
In addition to the above-mentioned achievements in AUN-QA asessment, CTU continues to implement another external assessment using AUN-QA standards. This is the 205th AUN-QA program assessment which was conducted remotely (online) from March 22nd to 26th, 2021 for 4 undergraduate programs including Software Engineering, Computer Networks and Data Communication, Mechatronics Engineering, and Mathematics Teacher Education.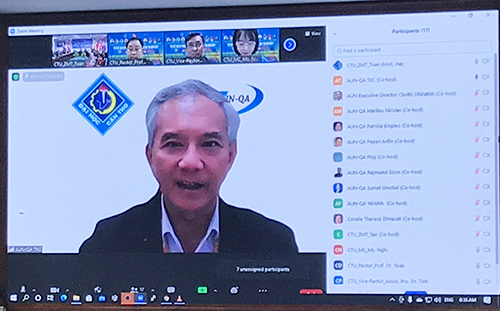 Assoc. Prof. Dr. Tan Kay Chuan, Lead Assessor, delivers the opening speech for the assessment
Representing the AUN-QA team, Assoc. Prof. Dr. Tan Kay Chuan, Lead Assessor, introduced AUN-QA's activities in recent years, emphasized the role of AUN-QA in the process of improving the quality of education in the region, and presented briefly the purpose and the activities of the AUN-QA team in the following days. Assoc. Prof. Dr. Tan Kay Chuan appreciated CTU's dedication and efforts in promotion of education quality and accompanying AUN's activities. It is believed that the certification of AUN for CTU's study programs in the past external assessments will create a great motivation as well as foundation for thue University to achieve more expected results, strongly affirming the quality, upgrading the prestige and brand name of Can Tho University.
Group photo at the opening session
With a rigorous and transparent assessment process, the AUN-QA comprehensive set of standards for evaluating training quality is recognized by the countries in Southeast Asia. Then, the practices of AUN-QA assessment is practical activity to improve the effectiveness of quality assurance, affirming CTU's commitment to strong commitment to standardized study program offer and to the sustainable development of AUN and AUN-QA.
(CTU Journal of Science)