On November 9th, 2019, Can Tho University (CTU) solemnly held Graduation Ceremony of International Master Program in Food Technology for the first batch. Attending the ceremony were professors from Ghent University, Belgium; Vietnam National University of Agriculture; representatives of CTU's Rectorate Board, leaders of CTU's units, and the graduates in Food Technology.


The ceremony took place at the hall of College of Agriculture

The MSc program in Food Technology or International MSc program in Food Technology was officially offered in 2017 at CTU under VLIR-UOS financial support and the contribution of Belgian and Vietnamese university partners. This is the first time a new teaching model has been applied based on a collaboration of four Vietnamese institutions including Can Tho University, Vietnam National University of Agriculture, Hue University, and Nha Trang University with a great support from the IUPFOOD program coordinators from Belgium.


The curriculum is based on the one offered by relevant partners, especially the one jointly taught by Ghent University and KU Leuven of Belgium, however, adjusted in accordance with the actual conditions of the local country. Participating in the master program in Food Technology, students are taught by professors and lecturers with extensive experience in PhD and master training in this field. They are provided with food technology background and expertise, emphasizing on post-harvest technology and food preservation, and equipped with knowledge of management skills and techniques, contributing to solving issues related to food safety through the production of clean, safe and quality food.


Prof.Dr. Ha Thanh Toan, Rector of CTU, spoke at the ceremony

All 9 students from African and Asian countries such as Ethiopia, Kenya, Nigeria, Tanzania, Indonesia and Laos have graduated, of which, two students have been awarded certificates of merit for outstanding achievements in learning and research.

Speaking at the ceremony, Prof.Dr. Ha Thanh Toan, Rector of CTU, gave his warm congratulations to the new masters with the respectable achievement of the international master degree in Food Technology after two years of hard work in Vietnam, especially at CTU. He affirmed that this is the honor, pride and success of CTU in particular and its partner universities in general in receiving and training international students. On this occasion, the Rector sent great appreciation to the VLIR-UOS for their financial support and thanks to Belgium and Vietnamese partners for their endless contribution and help.


Assoc.Prof.Dr. Ly Nguyen Binh, Vice Dean of Collge of Argriculture, reported the course results

Representing the graduates, new master Salako Damilola Abiola from Nigeria could not hide her tears, she had shared emotionally about the two years of living and studying in Vietnam. To her, the journey to Asia could be said to be a "bold" decision when she had to be faced with the fear of saying goodbye to family, the loved ones, setting foot on an entirely different continent. But the warm welcome, the enthusiastic lecturers and the friendly Vietnamese helped her eliminate those fears. During two years of experiencing many challenges in her new life, the tough coursework, sleepless nights to meet deadlines sometimes made her nearly gave up her dream and want to return home. Thanks to the affection of friends, the dificulties were all left behind. She encouraged her classmates to face the upcoming challenges "Our lecturers have sowed seeds of greatness in us in the past two years, let us nurture these seeds to fruition".


The graduation ceremony is probably the last day for new masters as an international master students in Food Technology at CTU but also marks a new beginning for a new learning process in higher levels, for new projects, plans, research and successes, new masters may face more burdensome challenges, but the fighting spirit will keep them being outstanding individuals. Expressing deep gratitude to the VLIR-Vietnam Network program, CTU and its partners, the new graduates expressed the determination to bring knowledge, experience, and skills to effectively contribute to the development of their homeland.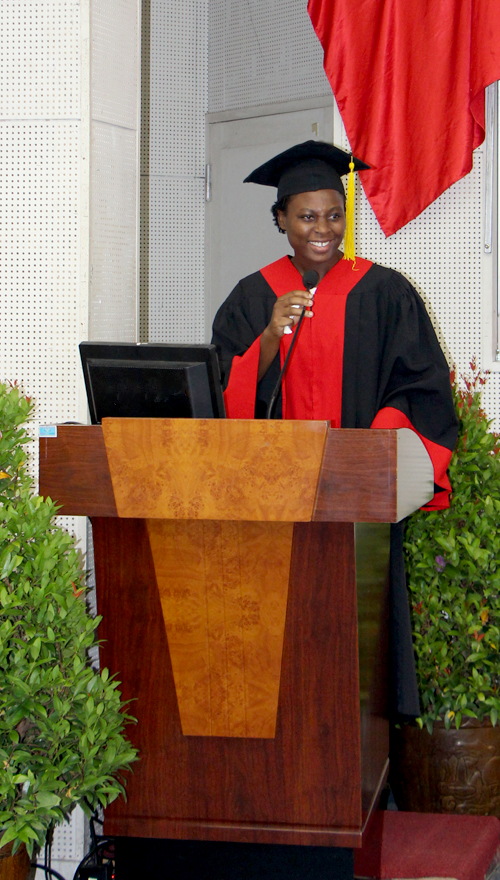 New graduate Salako Damilola Abiola from Nigeria with touching sharing about her study process in Vietnam
Prof. Koen Dewettinck, Ghent University, believed that with the initial success from the cooperation between CTU and partners of the two countries, CTU's international master program in Food Technology will increasingly develop, marking a turning point in graduate training of CTU, and the cooperation between Belgian and Vietnamese partner universities will be further developed as well
Prof. Koen Dewettinck presented gifts as his special thanks to Prof.Dr. Ha Thanh Toan, local  coordinator of VLIR-Network program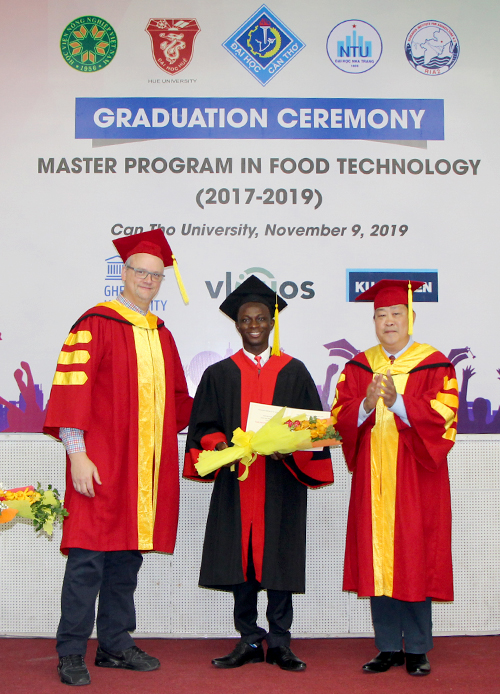 Prof. Koen Dewettinck and Prof.Dr. Ha Thanh Toan awarded certificates of merit to two new masters Salako Damilola Abiola and Ibitoye Joshua Oladapo for outstanding achievements in study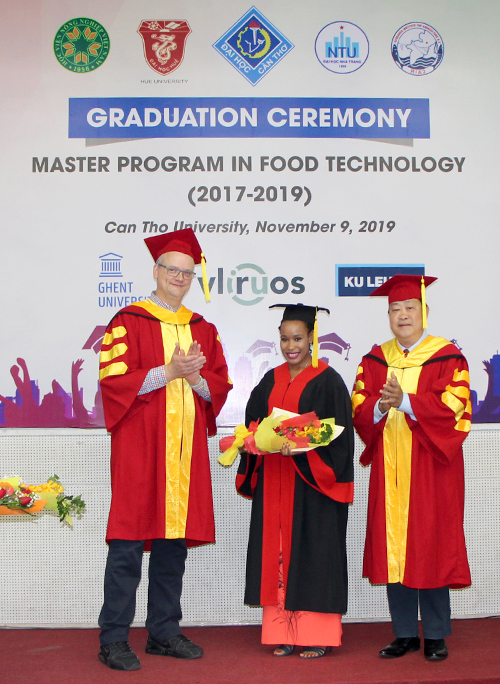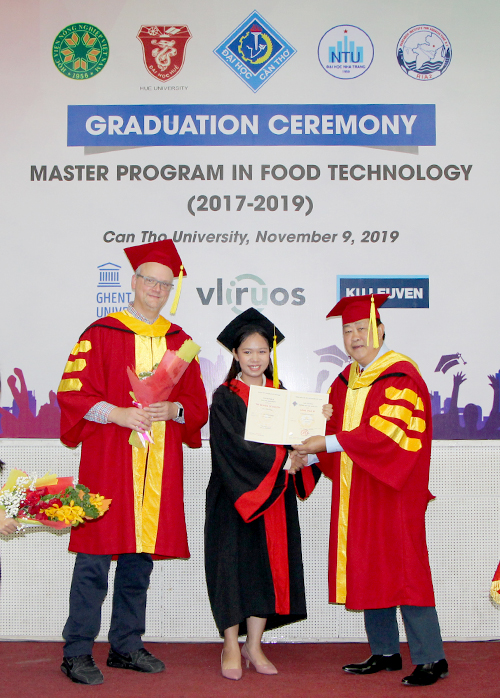 Awarding degrees and flowers to congratulate the new masters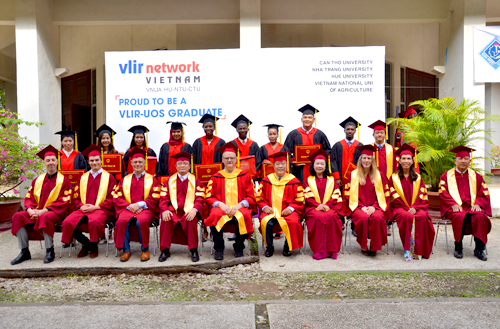 The new masters with the professors
The happiness of the new masters holding the degrees

(CTU Journal of Science)