On June 25th, 2019, New Zealand Ambassador to Vietnam - H.E. Ms. Wendy Matthews paid a visit to Can Tho University (CTU), aiming to strengthen the cooperative relationship between the University and New Zealand partners. Welcoming and having a meeting with the Ambassador were Prof. Dr. Nguyen Thanh Phuong, Chairman of CTU Board of Trustees and representatives of CTU's units.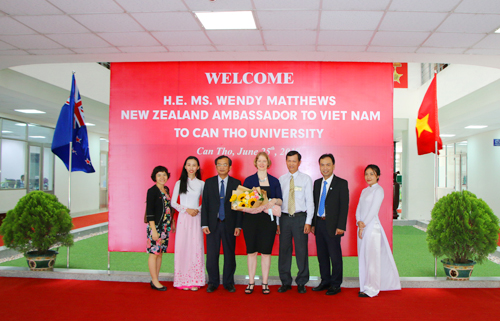 Welcoming the New Zealand Ambassador

At the meeting, Prof. Dr. Nguyen Thanh Phuong, Chairman of CTU Board of Trustees sent a warm welcome to the Ambassador, then introduced the overview and some outstanding activities of CTU in the recent years, especially, emphasized the important role of CTU in training, scientific research and technology transfer, and cooperation at home and abroad, serving the development of the Mekong Delta region in particular and the country in general.


In regard to cooperative activities with partners from New Zealand, Prof. Dr. Nguyen Thanh Phuong shared that at present, more than 30 staff members have finished or have been pursuing  short-term training courses, master and doctoral programs in New Zealand. Having graduated and returned from the training programs, the University's staff has promoted their capacities, held important positions in the units and positively contributed to the development of the University.


The meeting with New Zealand Ambassador

The Ambassador and CTU's representatives shared information and had a discussion on several issues of mutual interest, thereafter proposed to strengthen cooperation in graduate training between educational and research institutions, joint research, English teaching, etc. The Ambassador affirmed that in the coming time, New Zealand Embassy in Vietnam would promote the linkages as well as effective cooperation programs between New Zealand partners and CTU.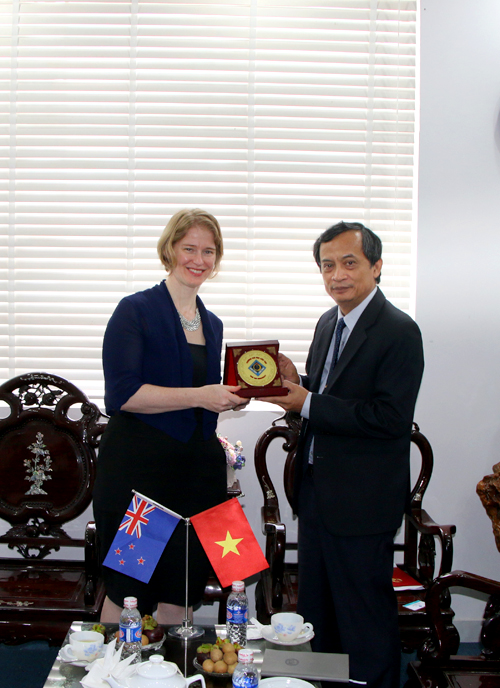 Prof. Dr. Nguyen Thanh Phuong presented CTU's emblem to the Ambassador
(Information and Network Management Center)