On June 10th, 2019, Can Tho University (CTU) had a meeting with Japan International Cooperation Agency (JICA) on the process of Technical Cooperation Project and CTU improvement Project.


Attending the meeting were representatives of JICA, JICA Vietnam Ho Chi Minh Branch, JICA CTU Project. On the side of CTU, there were representatives of the Rectorate Board, PMU, leader representatives of the units, coordinators of the fields of agriculture, aquaculture and environment.


The meeting with JICA at Meeting Room 1, the Administrative Building
Prof. Dr. Ha Thanh Toan, CTU's Rector, delivered  welcoming remarks

At the meeting, CTU's side has reported the progress of Technical Cooperation Project from March 2016 to May 2019 and CTU Improvement Project from October 2015 to May 2019. Then, the two sides conducted the evaluation and discussion of the next activities of the projects, in which, Phase 2 (2021-2026) of the Technical Cooperation Project was focused.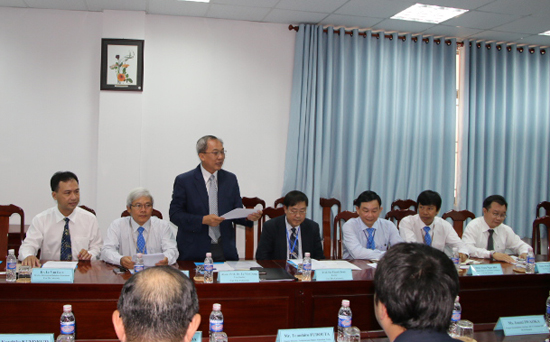 Assoc. Prof.Dr. Le Viet Dung, CTU's Vice Rector, summarized the main results of the projects

CTU Improvement Project using ODA loans of the Government of Japan has been approved by the Ministry of Education and Training in March 2015 with the aim of strengthening CTU to become an excellent higher education institution, internationally recognized in training, scientific research, technology transfer and governance, in three priority areas of Agriculture, Aquaculture and Environment. The success of the Project is expected to make a great contribution to the rapid and sustainable development of the Mekong Delta, contributing to the overall development of the University, accompanying advanced universities in the world, and the development of the country. Five components implemented in the Project include human resource development, research projects, facility development, procurement of research equipment, and consulting services.


With the aim  to support CTU Improvement Project, Technical Cooperation Project is to strengthen capacity of CTU in education, research, university governance and management to meet regional and international standards. According to the proposal of Technical Cooperation Project (2021-2026), it is aimed to enhance the collaboration, sharing opportunities and challenges among relevant stakeholders (government, scientist, local community, industry and commercial sector), aiming at sustainable development of the Vietnamese Mekong Delta region, focusing mainly on the fields of agriculture, aquaculture and environment to improve the climate change adaptation and resilience. Accordingly, the components of the project are collaboration in educational fields, research and technology transfer, establishing and maintaining the Delta Center of Environment and Natural Resources.


(Information and Network Management Center)