On May 10th, 2019, Can Tho University (CTU) was honored to welcome H.E. Mr. Kari Kahiluoto, Ambassador of Finland and the representatives of Lappeenranta University of Technology (LUT).


The meeting with the Finnish Ambassador and the LUT took place at the Administrative Building

At the meeting, Prof. Dr. Ha Thanh Toan, Rector of CTU, expressed the pleasure to welcome the Ambassador and LUT's delegation, then briefly introduced CTU on training, scientific research and technology transfer, especially on the important role of the University in training human resources and transferring scientific and technological achievements serving the development of the Mekong Delta region. CTU has built cooperative relationships with a lot of institutes, universities, organizations, and businesses around the world. Accordingly, many cooperative projects conducted with Finnish partners have brought practical benefits, contributing to the enhancement of facilities, research capacity of CTU in particular and the Mekong Delta in general.


Prof. Dr. Ha Thanh Toan delivered a speech to welcome the Ambassador and LUT

The two sides have discussed the second-stage training cooperation model between CTU and LUT with the support of the Embassy of Finland. Accordingly, the two universities will associate to offer master double degree programs in two years, undergraduate programs in four years, bachelor degree at CTU and then master degree at LUT. The areas of offered master programs include economics, chemical engineering, electrical engineering, energy technology, and environmental engineering; undergraduate programs are in engineering technology and science.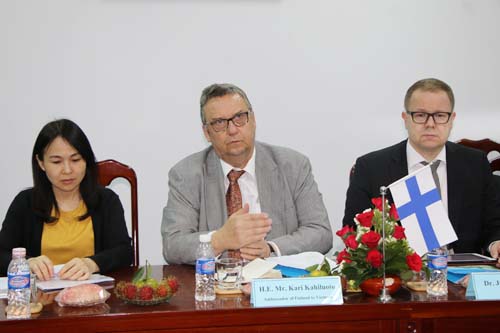 Mr. Kari Kahiluoto, Finnish Ambassador (middle) greatly appreciated the achievements of CTU and expressed his willingness to support the cooperative relationship between CTU and LUT in the coming time
Gift exchange and group photo
At the end of the meeting, the Ambassador and LUT's delegation visited the campus to remind the memory of the Ambassador's previous visit to CTU when he had planted a tree in 2018


(Information and Network Management Center)