On March 5th, 2019, at the Administrative Building, Can Tho University (CTU) was honored to welcome and work with H. E. Mr. Leonardo Rosario Manuel Pene, the Mozambican Ambassador to Vietnam. Receiving the delegation was Prof.Dr. Nguyen Thanh Phuong, Chairman of CTU Board of  Trustees and leader representatives of CTU' units.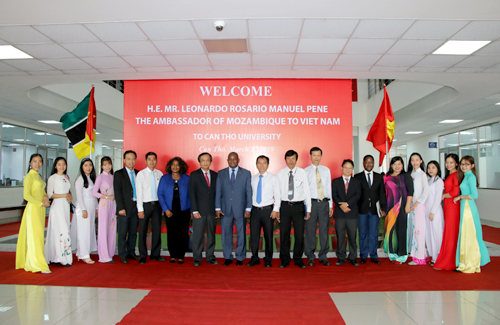 CTU's leaders and students welcomed the Mozambican Ambassador to Vietnam

At the meeting, Prof.Dr. Nguyen Thanh Phuong, Chairman of CTU Board of Trustees sent a warm welcome to the Ambassador, and introduced the overview, strengths and outstanding activities of CTU in training, research and technology transfer, especially the important role of the University in training human resources and transferring scientific and technological achievements to the development of the Mekong Delta region in particular and the country in general.

Founded in 1966 in the heart of the Mekong Delta region, CTU has now become one of five key universities of Vietnam out of about 400 higher institutions across the country. As a motivating factor for the region's development, by 2020, CTU will become the leading education and training institution of the country and be recognized as one of the leading universities in training and scientific research in Asia - Pacific. According to Webometrics, CTU is ranked 61st in Southeast Asia as of January 2019 and is in the  top 301-350 in Asia ranked by QS University Ranking Asia.


CTU currently offers 98 undergraduate programs for more than 45,000 students, 48 master programs and 19 doctoral programs with over 2,800 students. The University has 53 units including 16 colleges and schools, 03 research institutes, 18 centers, 14 departments, a high school and a company with more than 1,800 staff members, of which there are 11 professors and 132 associate professors, 412 doctors and 789 masters. The proportion of teaching staff with postgraduate qualifications is 97%. Currently, more than 300 lecturers are earning doctoral degrees.


In seeking of the high-ranking university at national and regional level, CTU has been continuously attempting to be admitted as the 30th member university of AUN in July 2013. At the same time, the undergraduate training program called Agricultural Economics was certified by AUN. In 2014, CTU honorably received the two certificates from AUN-QA for two more undergraduate programs named Advanced Biotechnology and Advanced Aquaculture (trained in English). In 2018, two undergraduate programs in Information Technology and International Business have been officially certified to meet AUN-QA's standards. In addition, CTU has been awarded the Certificate of Institutional Accreditation in compliance with the education accreditation standards of the Ministry of Education and Training.

The university has established scientific and technological cooperation with many international organizations, universities, research institutes and companies/enterprises/businesses through over 250 memoranda of understanding. Accordingly, relations between CTU and Mozambican partners have been established from the early 2010 through the Project: Introducing scientific and technical knowhow on aquaculture, or aquafarming in Mozambique in collaboration among Ghent university, CTU, Instituto Nacional de Investigação Pesqueira (Mozambique). Then, the official visit of H.E. Mr. Gamiliel Munguambe, Former Ambassador of Republic of Mozambique to Vietnam and Memorandum of Intention between Agricultural Research Institute of Mozambique and CTU have built strong collaborative, efficient relationships and constantly expanding collaborative relationships between CTU and Mozambican partners.


Discussion at the meeting

In a close and friendly atmosphere, Mozambican Ambassador expressed his appreciation for the warm welcome and hospitality from CTU. The Ambassador highly appreciated the important role of CTU in education and training of human resources for the Mekong Delta in the period of international integration, especially, the on-going cooperation between Vietnam and Mozambique. He shared that with the soil conditions in Mozambique quite similar to the Mekong Delta, besides, CTU is the leading university in the field of agriculture in Vietnam, he wishes to explore opportunities for cooperation in education, research and technology transfer between CTU and Mozambican partners.


Resulting from discussions on the direction of cooperation in the coming time, CTU commits to strengthening the support and cooperation programs with Mozambican partners such as receiving Mozambican students through scholarship programs of Vietnamese government or non-governmental organizations; offering short-term training programs in the strengths of CTU such as Aquaculture, Agriculture, Environment; effective investment consultancy for economic development, etc.


Through the connection of the Mozambican Embassy in Vietnam, CTU believes that more opportunities will be created between CTU and Mozambican partners in student and staff exchanges, conducting joint research in the Mekong Delta, thereby promoting cooperative activities in many fields and upgrading sustainable links of both sides. In his capacity, the Ambassador of Mozambique affirmed that he will make efforts to deepen the friendship between the two countries as well as between potential partners for the development of the two countries.


Fruitful results from the visit of the Ambassador of Mozambique to CTU promise to open up many cooperation and development opportunities for both sides
(Information and Network Management Center)