On December 14th, 2018, Can Tho University (CTU) held the 2nd Joint Coordinating Committee (JCC) for Technical Cooperation Project (TC Project) and CTU improvement project. The JCC is aimed at reviewing the progress and achievement of both projects, discussing and recommending key activities in 2019 and future direction.


Attending the meeting was representative of JICA, JICA Vietnam Office, JICA Vietnam Office HCM Branch, Chief Advisor and Coordinator of the Project, consultants. At CTU's side was Rectorate Board, Board of Trustees, Project Management unit, leader representatives of CTU's units, coordinators of fields of Agriculture, Aquaculture, Environment. The meeting was also attended by representative of Department of Planning-Finance, Ministry of Education and Training.


The 2nd JCC Meeting took place at the Rectorate Hall, the Administrative Building, CTU
Prof. Dr. Ha Thanh Toan, Rector of CTU in his opening remarks

CTU Improvement Project with the objective of strengthening CTU to become excellent, internationally recognized university in the fields of agriculture, aquaculture and fisheries, environment and related fields, contributing to the socio-economic development, adaptation to climate change, environmental protection, increase of the value of agricultural and fishery products in the Mekong Delta. For the progress of this project, 27 PhD and 3 Master candidates are studying in Japan; 23 CTU's staffs had successfully completed short term training on advanced laboratory analysis; 36 research programs have been implemented. The Project's achievements also include receiving many short-term experts; receiving equipment's of package 2.1 for Existing Building; updating specification of equipment for packages 2.2 and 2.3; preparing all necessary approval documentations for construction work in 2019; receiving actively support from the Consultant and so on.


With the objective of supporting the implementation of CTU Improvement project, TC project is aimed at strengthening CTU to become an excellent university in training, scientific research and technology transfer, using the non-refundable aid from the Government of Japan. The key components of TC project are implementation of a joint research project between the researchers of CTU and partner universities in Japan and strengthening of training capacity to offer new training programs and accredit quality of training programs in accordance with international quality standards. After more than three year of implementation, TC Project has achieved main outputs such as 4 model joint researches; 19 trainees for advanced Lab research; 8 trainees for administration; more than 75 short term experts (421 man-day) to support CTU; and 3 new master programs under recruitment.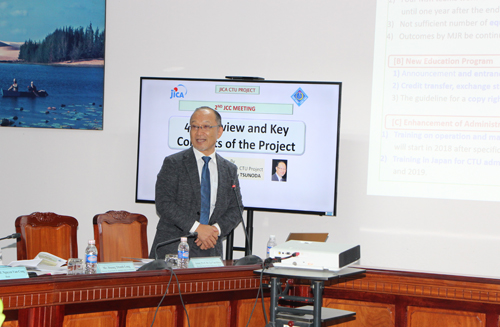 Prof. Dr. Tsunoda Manabu, Chief Advisor of TC Project presented the overview of 1st JCC Meeting and key concepts of the Project
Assoc. Prof. Dr. Pham Minh Duc, Deputy Director of PMU reported the progress and achievement of TC Project
Mr. Kunimoto Kazuhiro, Coordinator of TC Project introduced key plan 2019 of the Project
Dr. Tran Thanh Dien, Deputy Director  Director of PMU reported the progress, achievement and plan 2019 of CTU Improvement Project
Assoc. Prof. Dr. Le Viet Dung, Vice-Rector of CTU presenting the future direction of the projects
Discussion at the meeting
Group photo

(Information and Network Management Center)