From September 07th to 17th, 2018, all units of Can Tho University (CTU) have organized the conference of staff in the school year of 2018-2019. It is a prerequisite for CTU's staff conference to be taken place on October 10th, 2018 to assess the implementation of the Resolution of the Annual Staff Conference in the school year 2017-2018, propose plans and measures to carry out the tasks of the school year 2018-2019.


The Conference was attended by Ms. Vu Thi Ngoc, Representative of National Education Union of Vietnam; CTU's Rectorate Board; CTU's Communist Party Committee, Standing Committee of CTU's Labor Union; and 450 delegates representing nearly 1,900 staff members of CTU.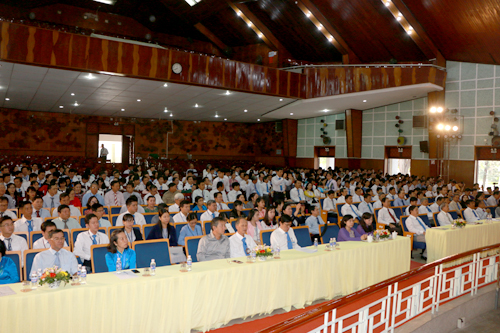 The Conference was taken place at the Turtle Hall

The Conference has approved the final report of the school year 2017-2018, evaluated the implementation of the last conference's resolution in all activities including political work; training and quality assurance; scientific research and technology transfer; international cooperation and project management; organizational development; student affairs; financial affairs; construction and management of equipment.


Prof. Dr. Ha Thanh Toan, Rector, presented the report of 2017-2018 and the plan for 2018-2019 school year

Based on the reports, the Conference has summarized the results in the past school year, and at the same time found and proposed solutions to overcome the difficulties and remaining limitations. Strategic plans for the new school year 2018-2019 were also drawn to achieve the important goals for the development of the University in the coming time. Accordingly, the University will focus on several key activities such as adjusting training program, implementing quality assurance activities, strengthening scientific research and technology transfer, smoothly implementing CTU Improvement project, strengthening student exchange, etc.


Ms. Duong Thi Tuyen, Chairwoman of CTU's Labor Union, reported the results of implementing the last resolution
The delegates stated difficulties and solutions for the University's development
Ms. Vu Thi Ngoc, Representative of National Education Union of Vietnam sent congratulations to CTU for the achievements in the last school year, and expressed her belief that CTU's staff would gain more successes in the new school year
Dr. Ngo Truong Ngoc Mai presenting the Resolution of the Conference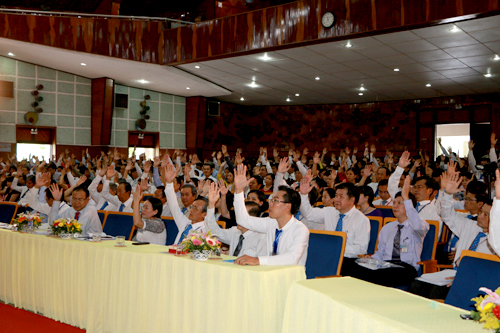 The delegates approved the Resolution

In the new school year of 2018-2019, CTU with initiative, clear and specific strategic plans will perform well all tasks and deal with any problems for achieving its goals of development. On this occasion, the Conference called for all CTU's staff to continue the tradition of unity, dynamism, creativity, seriously perform assigned tasks, and well observe the regulations of Ministry of Education and Training and itself to build CTU a stronger and more sustainable unit, being worthy one of the country's key universities.


(Information and Network Management Center)