On the morning of July 31st, 2018, Assoc. Prof. Dr. Tran Trung Tinh, Vice Rector of Can Tho University (CTU) and leaders of College of Environment and Natural Resources, Institute of Climate Change Research and Department of International Relations welcomed and worked with the Dutch Water Authorities, represented by Mr. Jan van der Molen, Strategist International Cooperation and Mr. Tjeerd Dijkstra, Project Manager, to di...
From July 06th to 14th, 2018, WANASEA project organized the workshop titled "ASEAN Water Platform 2018 – Water and Its Many Issues, Methods and Cross-Cutting Analysis" at Can Tho University. Twenty-invited speakers and nearly 100 participants from Vietnam, Cambodia, Laos, Myanmar, Thailand and European countries attended 02 days of plenary sessions and 05 days of capacity building workshop.
AUNILO (ASEAN University Network Inter-Library Online), includes 30 library members from 10 countries (Brunei, Cambodia, Indonesia, Lao, Malaysia, Myanmar, Philippines, Singapore, Thailand and Viet Nam). Each year, AUNILO rotationally organizes meetings at its member universities in the network to exchange information, discuss and develop solutions to enhance the capacity of each library as well as collaborative solutions...
Aiming to strengthen the relationship between the two countries as well as the university partners between Viet Nam and New Zealand, on June 18th, 2018, Mr. Keith Conway, Deputy Head of Mission at the New Zealand Embassy in Viet Nam paid a visit to Can Tho University (CTU). Leader representative and students of CTU welcomed and discussed with the delegates. At the meeting, Assoc. Prof. Dr. Le Viet Dung, Vice Rector of CTU...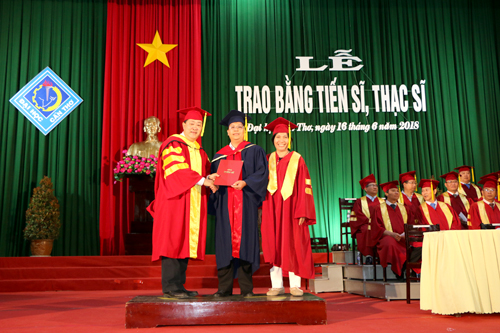 On June 16th, 2018, Can Tho University (CTU) solemnly held the Graduation Ceremony first in 2018 to confer the degrees for 13 PhDs and 438 masters. The ceremony was attended by leader representatives of localities, universities and colleges in the Mekong Delta; Rectorate Board and leaders of CTU's units; new  graduates, their families and friends. With the development of the education system of the country, CTU has been ...